Welcome to Our Parish Family
Holy Trinity Catholic Church is a dynamic faith-filled community. We welcome newcomers and are pleased and privileged by your presence. Please take a moment to come in and register in our parish. A representative will contact you to welcome you and provide helpful information about our parish.
---
History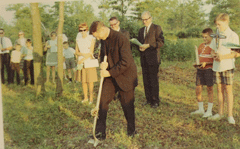 Holy Trinity Parish was founded on August 17, 1966 to serve the growing Catholic population in southeast Springfield. Bishop Ignatius Strecker appointed Fr. Richard Roling as first pastor. Liturgical celebrations and religion classes for 325 families began immediately in the Elks Lodge, ten blocks west of the present church site, until the church building was dedicated by Bishop Strecker in 1969. The Diocese of Springfield-Cape Girardeau provided land and ground was broken on East Bennett street on June 9, 1968 with the laying of the cornerstone on October 6th of that year. The first Mass was celebrated in the new Holy Trinity Church on May 25, 1969.
Fr. Mark Ernstmann was appointed second pastor in 1972. Under his leadership and previous experience as Diocesan Superintendent of Catholic Schools, the parish School of Religion flourished. Fr. Thomas Allen became Holy Trinity's third pastor in 1977. Construction soon began in 1978 to include a parish gymnasium/social center and 7 classrooms. Bishop Bernard Law dedicated the new facilities on May 11, 1979. Fr. Paul McLoughlin was appointed fourth pastor in 1987. Continued generosity of the parishioners enabled the mortgage of the church and building additions to be paid off years ahead of schedule.
Msgr. Thomas Reidy became our fifth pastor in 1991, precipitating a multi-phase expansion of parish facilities beginning in 1994 to meet the growing needs of the families of Holy Trinity. Fundraising began and Phase One construction got underway with the building of a new chapel, library and support facilities. The church itself was renovated receiving a new carpet, ceiling, improved handicap accessibility, and improved heating and air conditioning systems. Four new classrooms were added to the parish hall along with much needed storage areas.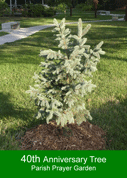 The church and parish center were connected by an enclosed walkway in 2000. The parish center was expanded to include parish offices, a multi-purpose social hall, kitchen, a remodeled meeting room and improved restroom facilities. Additional parking space was also provided. A beautiful prayer garden complimented and completed construction. Bishop John Liebrecht dedicated the renovations and new constructions on November 3, 1996 and September 9, 2001.
In 2003 the parish rectory was remodeled in order to be more functional and to accomplish necessary repairs and maintenance.
Fr. Fergus Monaghan became our sixth pastor in 2004, leading a vibrant faith community of 875 families who are active in a variety of ministries, organizations and social engagements.
In August 2016, Holy Trinity proudly celebrated 50 years as a parish in the Diocese of Springfield-Cape Girardeau.